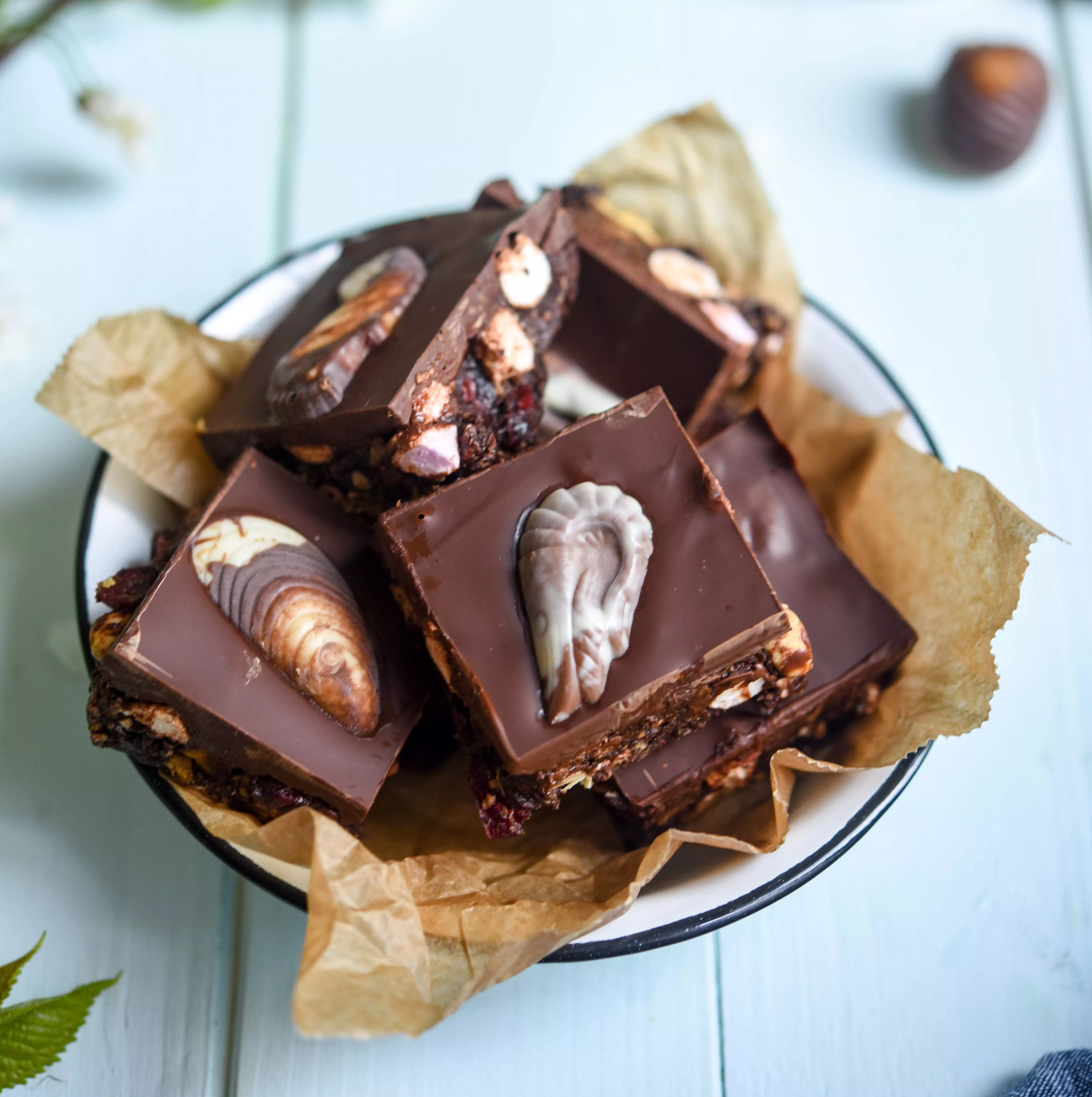 Intro
Ingredients
75g whole blanched hazelnuts
x8 Guylian Sea Shell Chocolates, halved to make 16
Remarks
Line a 20 x 20cm baking tin with baking parchment or clingfilm. Place the digestives and hazelnuts in the bowl of a food processor and pulse until you have some big chunks and some smaller pieces.

Place the digestive pieces and chopped hazelnuts in a large bowl with the cocoa powder, mini marshmallows, dried cranberries and stir to combine well.

In a small pan, melt the butter and golden syrup together, don't let it boil, you just want it warm, or it will melt the marshmallows.

Add a pinch of sea salt and then pour the melted butter and golden syrup into the dry ingredients, stir until everything is really well mixed.

Pour into the lined tin and press the mixture firmly into an even layer using a spatula or the back of a wooden spoon. Place in the fridge for 30 minutes to chill.

Take the chocolate and place in a bowl over a pan of simmering water, melt until smooth. Don't let the chocolate get too hot, you want it just melted and glossy.

Pour the melted chocolate over the chilled base and spread it using a spatula to get an even covering. Take the Guylian Sea Shells and lay all 16 halves evenly on the melted chocolate, so that they will be in the centre of each square when you want to cut it.

Place the tiffin back in the fridge and allow to chill for at least an hour.

Remove the tiffin from the pan and take a long sharp straight edge knife and heat it in hot water, dry the knife and gently melt through the top layer of chocolate and then crunch through the tiffin. This will give you nice neat cuts through the topping without cracking it. Repeat the process cleaning and drying the knife each time until you have 16 squares.

Place the tiffin in an airtight container, return to the fridge and eat within a week.