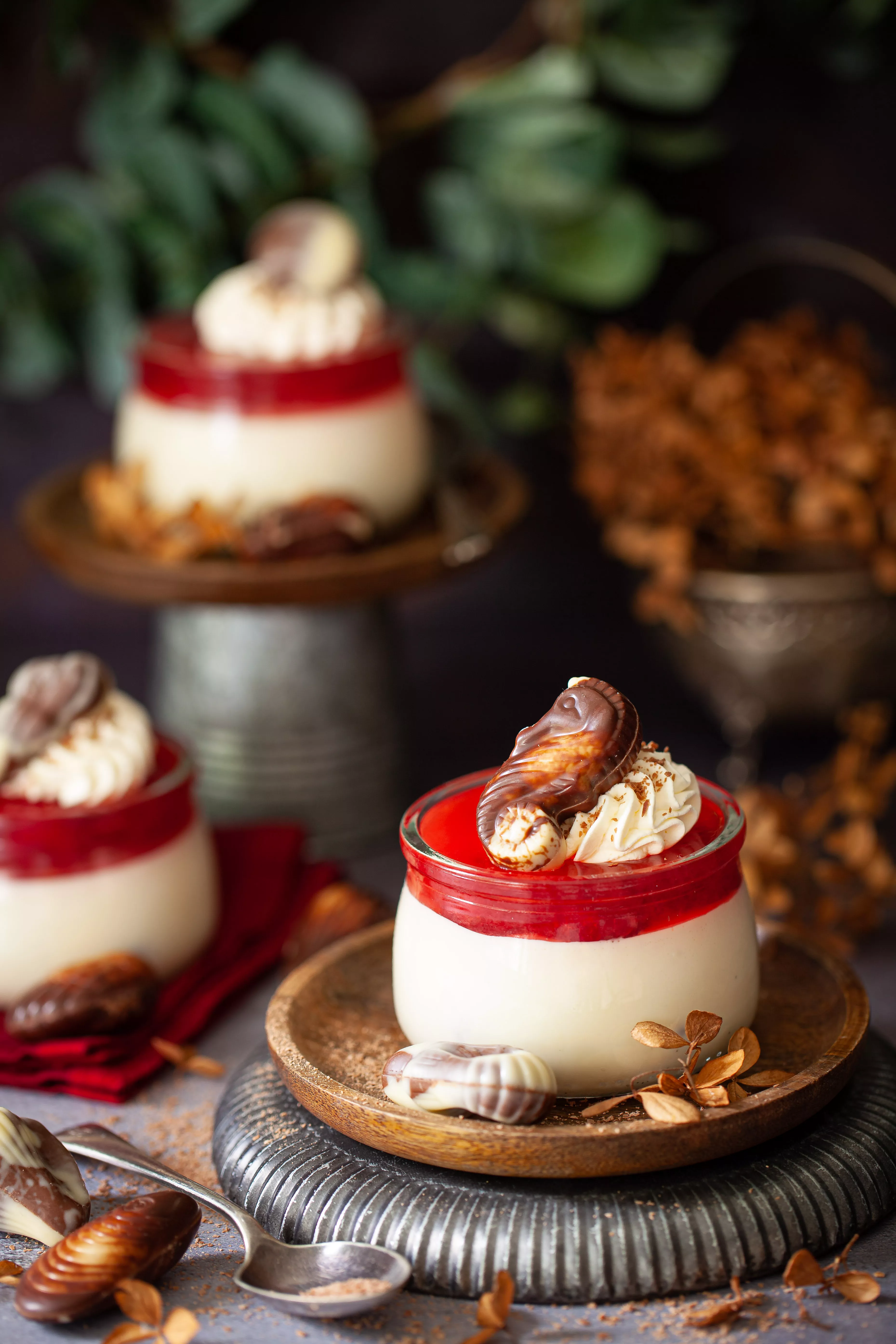 White Chocolate & Raspberry Panna Cotta
Intro
The combination of creamy white chocolate and fresh, fruity raspberries stands out in this beautiful dessert. A Guylian Seashell on top of this beautiful panna cotta is the ultimate finishing touch.
Ingredients
FOR THE WHITE CHOCOLATE PANNA COTTA:
¾ tsp vanilla bean paste (or vanilla extract)
Remarks
FOR THE WHITE CHOCOLATE & RASPBERRY PANNA COTTA:

Put a few raspberries in the base of 6 pots each large enough to hold around 175ml liquid.

Meanwhile, heat the cream, milk, vanilla bean paste and sugar in a saucepan until the sugar has dissolved and the temperature reaches around 60C (do not let the mixture boil).

Take the pan off the heat. When the gelatine has softened, squeeze out the excess water then add it to the pan. Mix until it has melted.

Next add in the white chocolate. Let sit for 1 minute, then whisk to combine. Let cool for around 30 minutes until it reaches around 25C on a food thermometer.

Transfer the liquid to a jug and pour a little into the pots holding the raspberries. Aim for a depth of around 1cm in each pot. Transfer the pots to the fridge for 15 minutes to firm up.

Next pour in the rest of the panna cotta liquid, leaving around 1cm space at the top of the pots for the jelly.

Transfer to the fridge for another 10-15 minutes to firm up, then top with a few more raspberries.

Return the pots to the fridge and leave to set for 1 hour.

FOR THE RASPBERRY JELLY:

Put the 2½ leaves of gelatine in a bowl of cold water for 5-10 minutes to soften.

Put the water, sugar and raspberries in a pan and cook until the sugar has dissolved and the fruit has broken down.

Strain the liquid through a sieve to remove the seeds and pulp. Discard the contents of the sieve.

When softened, add the gelatine into the liquid and stir until melted.

Let cool to around 25C.

P our the liquid onto the top of the panna cotta then transfer the pots to the fridge and leave for at least 6 hours, but preferably overnight, to fully set.

FOR THE FINISHING TOUCH:

Whip the cream and pipe a rosette onto the top of each dessert.

Sprinkle a little grated chocolate over the cream.

Top with a Guylian Seashell.