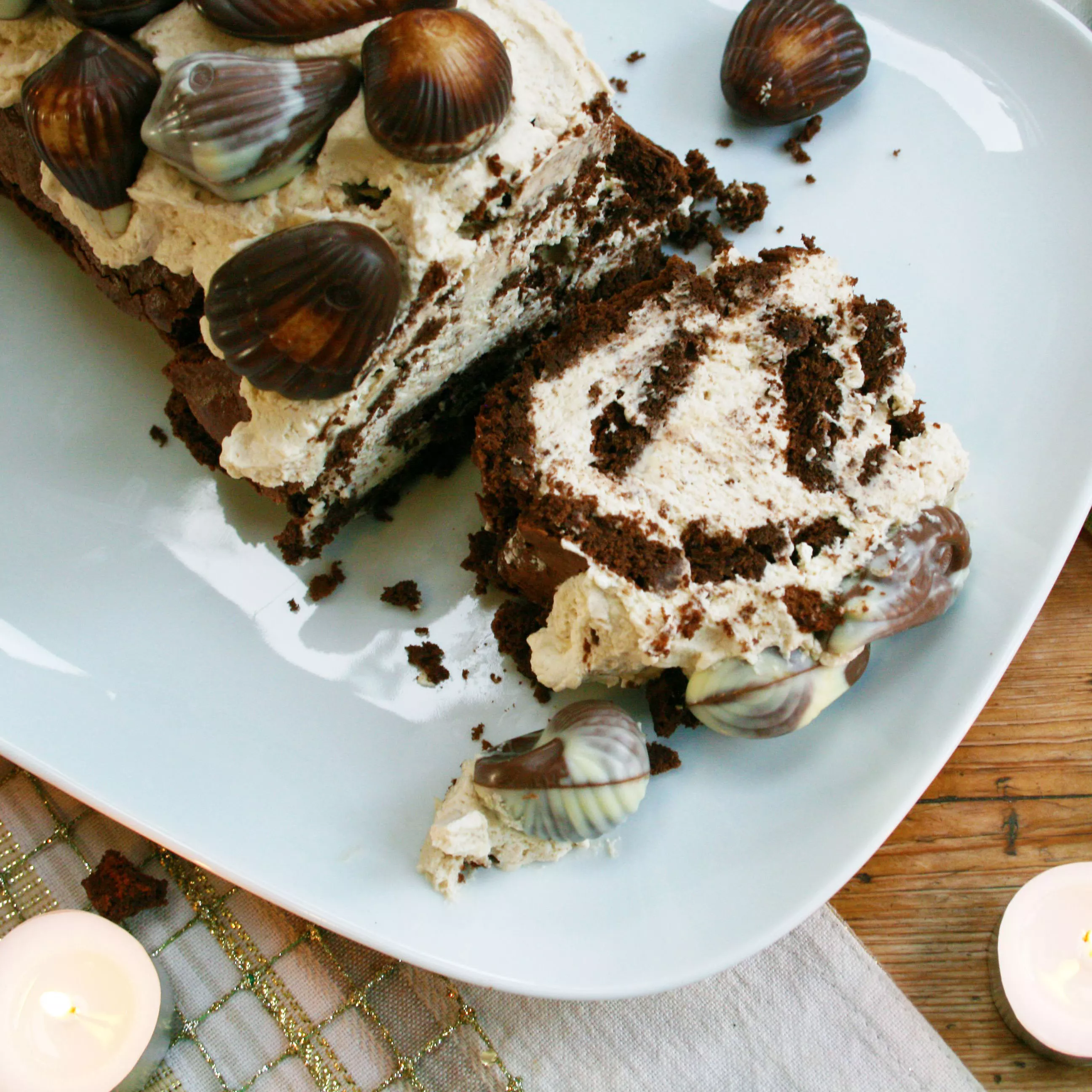 Chestnut Cream Chocolate Roulade
Intro
This twist on the classic chocolate roulade finished with Guylian Belgian chocolate is easy to make and can't go wrong. The rich flavors are a match made in heaven.
Ingredients
4 large free-range eggs –separate the yolks and the whites
150g good quality dark chocolate (at least 75% cocoa)
Butter or margarine for greasing
For the filling and topping:
300ml tub of double or whipping cream
1 x 250g tin of Crème de Marron (sweet chestnut spread)
Guylian Sea Shell chocolates to decorate
Remarks
Pre-heat your oven to 150C (fan). Line a large Swiss-roll tin with tinfoil, which you should then grease well with butter or vegetable spread.

In a large bowl, beat the yolks with the sugar until soft and light.

Melt the chocolate (I do this gently in the microwave but if that idea sends shivers up your spine, then use the classic bowl over simmering water method.) At this stage add 1 ½ tablespoons of hot water to the choc mix, then stir it gently into the egg and sugar mix.

Beat the egg whites until stiff and then carefully fold them into the chocolate and egg mixture.

Pour the mixture into the prepared tin and bake in the oven at 160C for 20 minutes then a further 10 minutes at 90C.

Whilst it's baking, grease another large sheet of foil and place it on a flat surface where it won't have to be moved for a while (Up to 8 hours).

Now the tricky bit… Once baked, take it out of the oven and immediately turn it over onto the greased foil and leave it, with the baking tin still on top for at least 8 hours. I tend to bake it in the morning and get on with life or bake it in the evening and leave it overnight.

To assemble:

In a large bowl, whip the cream to a soft light whip and stir in the chestnut spread so it's evenly distributed

Remove the baking tin and carefully peel off the foil that lined the tin.

Spread 2/3rds of the cream mixture evenly onto the surface of the Roulade and then, using the excess foil, roll the Roulade into shape. It should be able to be slipped neatly onto a plate. Don't worry about any cracks or breaks, this is all part of the look!

Spread the remaining whipped cream mixture onto the top of the Roulade.